"Here today, scone tomorrow" one of my friends back home once said of scones. And if you are a fan of a good scone, you'll know how valid that statement really is. Scones are made to be eaten on the same day. Fresh from the oven, a scone is perfect with just butter or with jam, or go all-out with a cream scone tea party. There are also some great savoury scone recipes but I'll get into that later on. The Barcelona scone scene is seriously lacking though, not like in Ireland…
When I was a teenager I worked in a cafe in my hometown and for years I was in charge of decorating the desserts. I'd like to crown the scone lady from way back then; Emma Queen of Scones. All the pensioners piled into the place every Saturday afternoon for her famous scones with a cup of tea. Indeed when I make scones, I strive to equal Emma's scone greatness. They were delectably crunchy on the outside, but immediately soft, melt-in-your-mouth buttery goodness at the first bite. These scones were love at first bite.
How did she achieve such a good scone? How do we get it just right? There is a fine margin of error when it comes to making scones. The measurements have to be just so, the temperature of the butter, of your hands, of the oven. All of these things (and more) come into play when making scones. First, here are my quick tips for making good scones.
Tips For Good Scone Making
Keep your ingredients as cold as possible until you need to use them. For example, butter, eggs and milk, use straight from the fridge wherever possible. The same can be said when making shortcrust pastry dough.
Keep your equipment as cold as possible. The work surface, your spatula, the bowl, the scone oven tray, your hands! Wash and dry your hands in cold water in between steps. Butter releases air as it bakes in a hot oven, this is what makes scones airily light. So don't melt the butter by accident by working the mixture with warm hands.
Always hold a little bit of the wet mixture back from the dry, until you are sure of your measurements. Some eggs are slightly bigger than others but it will change how firm (or gloopy) the dough is when you tip it out to cut your scones.
The oven should be hot hot hot! Or 200C anyway but the heat should be constant. That means no opening the oven door halfway through, because you'll let the steam out. All of this helps the scones rise to their fullest.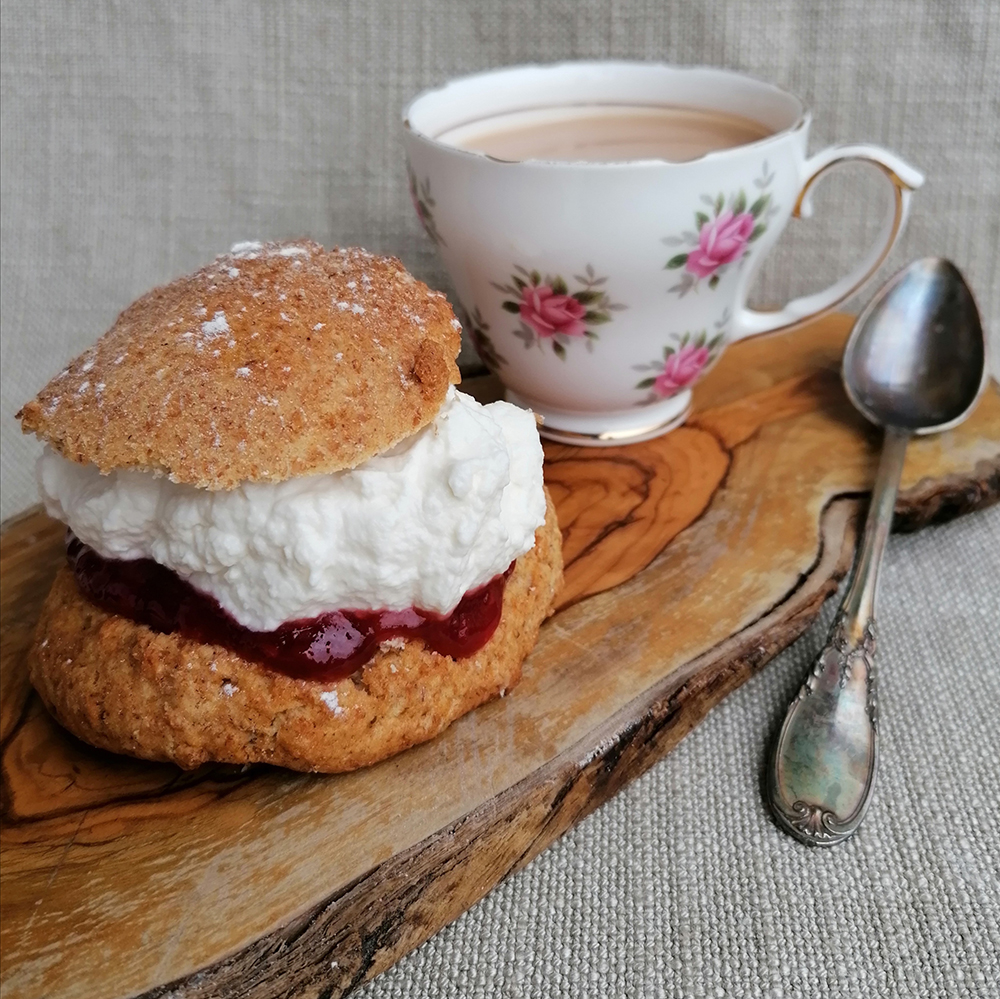 My Adaptable Scone Recipe
So this is the simplest, best scone recipe I have come up with. Do you like a wheaten scone? That's ok, just substitute two of the cups of white flour for brown flour. Do you like a fruit scone? Just add around 3/4 cup of your dried fruit into the wet dough before turning it out. Let me know what other adaptations you'd like for this easy scone recipe!
Print
Ingredients
Wet Ingredients

1 medium sized egg

1 cup of fresh milk

Half teaspoon vanilla essence

Dry Ingredients

3 cups plain white flour

1/2 cup of white sugar

Pinch of fine salt

5 teaspoons baking powder

3/4 block of cold, cubed salted butter (around 125g)
Print
Directions
Preheat oven to 200C and line a baking tray with greaseproof paper.
Whisk the egg in a small bowl, then add cup of milk and vanilla essence, whisk briefly and put into fridge.
Combine flour, sugar, salt and baking powder in large bowl, lift and drop the flour to aerate it. Rub in the butter gently and quickly using your finger tips, until the mixture resembles fine breadcrumbs.
Make a well in the middle, pour in the wet mixture and combine using two fingers until you get a sticky, well-distributed dough.
Use a spatula to scrape the dough from your fingers, and scrape the sticky dough contents together onto a floured surface.
Flour your hands, and quickly work the dough into a broad round. Pat gently with your palms until the dough is around 4 cm or 2 inches thick. Using a circular biscuit cutter or a narrow glass, cut out a scone, shape lightly with floured hands and place on your oven tray with greaseproof paper.
Repeat the cutting process and reshape your dough accordingly until you have 8 or 9 evenly spaced scones on the tray. Put in the oven and bake for 15 to 20 minutes until golden brown. Lift the scone in the middle; if it is golden brown on the bottom they are ready.
Transfer the scones with a spatula onto a cooling rack, cover with a clean teatowel and cool, or serve immediately as warm scones straight from the oven!
How to Serve Scones
The traditional method of serving a scone is by cutting it in half and then spreading butter and jam of choice on your scone. A cream scone is a scone with jam then cream, topped off with the other half of the scone. Of course you want to accompany this with tea or coffee, or if it's for an afternoon tea party, with Champagne or Cava!
How do you like your scones? What is your favourite topping to serve with scones? Please let me know if you try the recipe and how it works out for you in the comments below.